Aloha, E Komo Mai
Tropic Isle Magic
is a SAMPLE website that features the most unique music selection in the islands. Let us take you on an
aloha cruise
. Music is the first step into one of the world's most intriguing cultures. We highlight thousands of Hawaiian gifts, authentic Polynesian products, and natural cultural items from the islands of Hawai'i. You can easily find the perfect household convenience, special souvenir, presents for anniversary, wedding, holiday or birthday.
Our online shopping mall is filled with unique tropical Hawai'i products: Hawaiian Heirloom Jewelry, large selection of Hawaiian music and art, Hawaiian books, Hawaiian hula skirts and aloha shirts, Hawaiian gift baskets, Hawaiian food, and much more. Review our
Product Catalog
for a complete listing.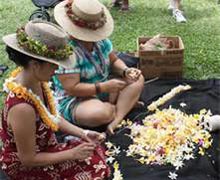 NEW PRODUCTS!
We are adding great new products every day!
Email Us
... we welcome your suggestions.
Mahalo and Aloha!
Make $$$ with InfoImagination
Our friendly, experienced team members at InfoImagination are here to assist you ... Discover the staff's Aloha spirit, store policies, online security, shipping information and
MORE
Highlighted Products by Category
[click photo to jump directly to product]